For the past two-three years, probably closer to two, I have stared at the cover of this book and read the back of it
"It seemed he could never redeem from such a steadfast spell,"
"his lady's eyes"
And then there was this strange picture of what? A house? That's what it looked like to me. :)
Last Saturday I started Waking Rose. I''d read Shadow of the Bear: Snow white and Rose Red: Book one of the Fairy Tale Novels. Number one favourite or maybe number two. Or maybe a tie. :P Indecision 'click's tongue' Anyway the summary of that was this:
Once upon a time... In New York City, a young, secretive street tough who calls himself, Bear, lands on the doorstep of two teenaged sisters. On the one hand Rose is delighted with his surprising knowledge of literature, poetry, and music; on the other hand Blanche is afraid of his apparent connections to drugs, murder, and a hidden treasure. Even as Blanche learns to trust him, her fears that Bear's friendship threatens their family prove terrifyingly true.
Black as Night: Snow White and the Seven Dwarves: Book two of the Fairy Tale Novels. Number four favourite, in other words, my least favourite
Way after midnight in New York City, a girl runs down the streets, looking for someplace to hide ... is there anywhere she can go to escape? Is there anyone who can help her... now? This dark but fulfilling sequel to
The Shadow of the Bear
is based on a familiar fairy tale "Snow White and the Seven Dwarves" from the Brothers Grimm. Circumstances have placed Blanche Brier entirely on her own this summer in New York City while Bear is wandering through Europe and her family is on vacation. Blanche is fast becoming the focus of a terrifying play of evil forces. Even the refuge she takes among some lively Franciscan friars does not protect her from dangerous attacks. Rather, they continue to escalate as she struggles to persuade a sick and aged man from killing himself. Discovering Blanche's disappearence, Bear and Fish cut short their European vacation and join up with Rose to begin scouring New York City looking for Blanche. But the same malevolence that is lurking over Blanche seems to be hunting them as well and drawing them all togther into a death trap until it seems that all hope is gone. Yet during this time, the desires of Blanche's heart are being clarified - and so are Bear's. A black night. Tested faith. Honest love.
Alex O'Donnell and the Forty Cyber-Thieves:Ali Babar and the Forty Thieves: Book five of the Fairy Tale Novels
Remember this guy?
He was first introduced in
Waking Rose
, but even first-time readers will quickly jump on board this rollicking adventure with the sword-wielding Alex O'Donnell and his nearly techno-phobic girlfriend, Kateri Kovach, who yes, take on forty cyberthieves.
In this high-tech thriller, Alex returns from college to find that his dad, a computer hacker and software programmer, has inadvertently discovered a mysterious website which leads to sudden wealth. But at what cost?
Practical, hard-working Kateri Kovach is suspicious of all this high-tech hoopla and tries desperately to keep the O`Donnell family running smoothly; mainly by cleaning up after them. Her biggest worries are finding a job and figuring out how to break up with Alex. Yet, she finds herself evermore immersed in the O'Donnell family activities - playing video games with Alex and his younger brothers Sam and David, caring for their mother suffering from MS, and battling a samurai security cat. Mayhem, martial arts, and murder ensue even as Alex pursues marriage with Kateri who wonders why she's letting herself be a part of the madness. But in the end, it just might be the anti-technological Kateri who saves the day...
I had read all of these books before I read Waking Rose, I know Alex O'Donnell and the Forty-Cyber Thieves and the Midnight Dancers are after it (though I have to read Midnight Dancers as of yet) but it didn't matter. It didn't really spoil anything for me at all. Just made me want to read Waking Rose even more. Before we go any further I suggest that the people who don't want to spoil what happens in Waking Rose, leave this blog post. It is choker-block full of spoilers and anyone else might what to have second thoughts as to reading further because Regina Doman's books are really really good books. I highly recommend them to anyone though they are not for children but for more mature people .
Okay, so you made up your mind to take the plunge then please read on:
And in case you didn't know it is a retelling of Sleeping Beauty. And I rate it as number two.
A little summary of this delicious book:
"
I love him more than poetry... I love him more than song.
" Ever since he rescued her from Certain Death, Rose Brier has had a crush on Ben Denniston, otherwise known as Fish. But Fish, struggling with problems of his own, thinks that Rose should go looking elsewhere for a knight in shining armor. Trying to forget him, Rose goes to college, takes up with a sword-wielding band of brothers, and starts an investigation into her family's past that proves increasingly mysterious. Then a tragic accident occurs, and Fish, assisted by Rose's new friends, finds himself drawn into a search through a tangle of revenge and corruption that might be threatening Rose's very life. The climax is a crucible of fear, fight, and fire that Fish must pass through to reach Rose and conquer his dragons.
Okay you are all familiar with the plot? Okay, yeah well if you aren't this is NOT going to make ANY sense to you but okay, here goes:
Waking Rose was a great book to read. I think it is just a little behind Shadow of the Bear. I had to wait to read it after I had read three of the other FTN books because Mum said it was a more mature and older kids book. It would happen every few months that I would ask my Mum 'Mum, can I read Waking Rose, now?'
It would most certainly be answered with a stout, but gentle 'No.' I can understand now why she said that. Because it is for older people, just the stuff that is dealt with in this book. I'm not saying it was bad or anything just that it should be read only after parental approval.
Then on last Saturday I asked Mum and after a lot of consideration she said as long as Eden and Saxon were fine with it as I would be reading about six months earlier than Eden had and Saxon hadn't even read it except maybe the first chapter. They were fine with it and so I began:
So we all know this one is about Fish and Rose don't we? Yeah so, Fish+Rose =Pure awesomeness.
A look at the characters:
Note: there are no actually pictures of them as the only one you 'could' get are form the stupidshadowofthebearmoviewhichwedon'tlikeseeingastheyhaveruinedhowbearlookedandMr.FreetadnRose'shairlooksfunny and a thousand and one other details.
Rose Brier: How do we describe Rose Brier? Fanciful? Romantic Happy? Passionate? and loving the one guy who doesn't love her in the same way. Yep that's Rose, falling in love with the guy who doesn't love her (at least at the start hehe). The girl with style. Who likes to wear scarves and reading Chesterton. Who enjoys the company of young men who all swordfight and play video games; who are athletic and stong Catholics. Her parts got a little boring though after she got into the coma, until she finally woke up and that got a bit annoying! The girl who enjoys Shakespeare and even plays Cordelia in a play. Who always knows that there is someone who will rescue her, Fish.
Fish/Ben Denniston: I didn't a post a year or so back with Fish featured on it about why I like him so much, bu that was before I read Waking Rose and I want to tell you just how great/awesome he really is all over again:
In Waking Rose there is a lot and I mean a LOT more of Fish! And that is a good thing believe me. Who wants Bear when you can have Fish? Who can try and keep it cool (in words and actions) even when he's bruised and battered and (with the case in Waking Rose) going to die in a blazing barn all tied up. He's not the 'hero type' in some ways as he tells Rose. Such as his scarred face and his lack of adventure. But he IS the hero type in other ways. He's sacrificial, he's brave, he's determined, he's committing (like when he visits Rose every single evening to see how she's doing at Graceton Hall) he's smart and he's caring thouigh he is not caring toward everyone, he's calm and cool, even when inside he is actually not. But he also has his struggles. He doubts sometimes about how much God cares for people when he is in the barn but then he understands and that's why I say he's sacrificial He has trouble with relationships because he is haunted by Mr. Freet and what he said to him.We do not like Mr. Freet if anyone is asking, just sayin'. He is also very judgmental as in the case with Dr. Prosser and Donna and he knows it. And he gets a sword and is inisiated into Sacra Cor at the end, that is pretty cool. :D He is not your typical knight in shining armour. But hey? Why would anyone want a typical guy when you can have an amazing guy?
I'd rather pray for a Fish, actually. :P
The Cor guys:
The 'Cor' guys as Rose calls them also known as the guys who live in the mens dormitory called 'Sacra Cor' (Sacred Heart) they can swordfight, do maritial arts and play video games. They wear black tench coats, sunglasses and call each other names like 'Burrito' and 'Bull' They enjoy movies about Martial Arts. Yep, that's the Sacra Cor guys.
How can you not like the Cor guys? Leroy (the guy who climbs on top of a pilliar just to see what it looks like) James (who is not very main so I don't really have anything to say about him :P) Alex, can I ask you a question? Can I haz swordfightz? Sorry completely off subject Alex O'Connel refernce, (the proctor of the dorm who makes poeple who have misbehaved instead of making them be part of extra work crews) sends them out into the snow, or whatever weather it is for that matter and tells them to sit down and read Thomas Aquinas until he says they can come back inside, and Paul the guy who is very main and likes Rose very much and dances with her all the while Fish is watching from the side-lines. Ha! Paul you didn't end up with Rose after all, hahahahaha! Sorry, its just I DO like Fish better but Paul is really nice as well.
They have intense discussions about the Latin Mass (the entire dorm) sitting down while Paul makes bishop hats from paper for whoever is pontificating.
They steal back their own flag from another dorm and have a pitch battle about it too.
And then they hold off the people who run the hospital from getting Rose back while Fish and Donna run and get the antidote, they made Rose a Lady of Sacra Cor after all. It would be so awesome to go to a college where there are people like them! :D
I WANT THAT T-SHIRT!!! Though, I'd prefer a 'Someday my Fish will Come' T-shirt instead if you've got it. :)
The bad guy: Yes, so I guessed Dr. Murray was the bad guy, it was kind of obvious, don't ya think? She is an expert on Comatose patients after all. Technically there are two bad guys, Dr. Murray and Dr. Prosser.
While Dr. Murray can appear pleasant and pleasing on the outside, Dr. Prosser just gives you a feeling. 'shivers' And then Bear cam along and managed to stop Dr. Prosser from going anywhere. During the entire part at the barn I was like "Okay, so when's Bear gonna show up because he IS going to show up, and voila! he did! :D
Kateri was pretty good, I liked how she had all those protests outside of the abortion clinic and all the while with her I'm thinking "I know what happens to you, and who ends up with you." :P And she ends up with a really cool guy, too! It was really nice how she befriended Donna, too.
Donna: Well we all didn't like Donna at the start, now did we? I wasn't the only one who thought she was the bad guy was I? *people nod heads* But she really turns out nice at the end and impersonates a receptionist to get the antidote to Rose. I loved it how it said in the book 'then a shrill, "that's not our receptionist Where did she get that ID tag?" I read that part twice because I thought it was so funny.
All the references:
Speaking of strong Catholics it was great to have all the references in Waking Rose as in all the other FTN that are just very Catholic, Fish getting out his rosary after having nightmares, Kateri leading protests outside of an abortion clinic (not that I'm saying non-Catholics don't do that too, its just that I thought it was really good). Fish accepting his fate in the barn and knowing that God is there and also how he prays for Rose to be safe.
An
d just if anyone starts saying that Waking Rose is in anyway like Twilight like how it sounds on the summary or back cover or anything, and that Regina Doman copied it, I 'd like to ask you to please, be quiet, because Regina Doman wrote
the first THREE books before Twilight was ever published (I actually don't understand how it ever got published anyway, it and Harry Potter and all those other stupid books) and Waking Rose is number three.
Did anyone else like how Fish went and tried to wake up Rose and she did? I loved that, and I was like 'FINALLY HE'S TELLING HER THAT HE LOVES HER!!!!' and than how he said "I'm all yours." So simple and yet so beautiful. And then the ending where Rose asks if he actually kissed her, that was really good too. :D
In other words, if you have not read any of the Fairy Tale Novels (I hope you are writing this down? What you aren't writing this down, well start writing!) I highly recommend them though they are for older children and should (I think) up to a certain age or maturity be read before or previewed, if you like, by a parent or someone you trust when it comes to reading books. You got all that down? I certainly hope so and the author is Regina Doman, that's right Regina Doman, that name is very important if you ever want to read these books.
Oh, yeah, and just in case you don't know: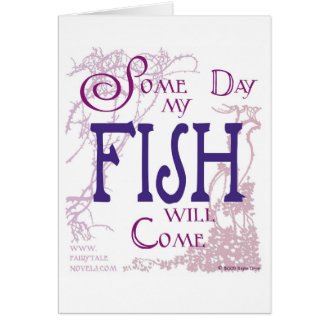 Someday.
And in case you didn't understand:
GO AND READ THESE BOOKS!!
God Bless