To
Jessica
!!
So, I know I've been gone awhile but were in the second week of Advent and things are happening concerning Christmas. :) I've just stopped by to say that a blogging friend of mine, by the name of Jessica has just published her first ever book!! She has been working on it for some time and has just had it published and may I just say.....it looks fabulous!! :D :D
A little of what its about:
'With King Harold away at war Lord Raburn has his eye on the throne. Those who dare to stand in his way fall beneath his power. All but one. A girl named Annabeth. Can a common, ordinary girl, with love for king, country, and her father, achieve the impossible?'
'Trained by her father, a master swordsman, outlawed Annabeth has only her sword, her wits, and her disguises to keep Belterra from falling entirely into Lord Raburn's clutches. Can she rescue her captured father and Prince Alfred? Will one girl keep the kingdom from falling?'
There is a chance to win a copy of her book and a special Annabeth's War bracelet so if you just click on the picture below it will direct you to the blog where you may enter.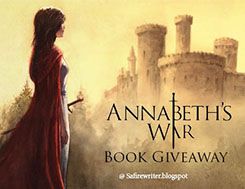 By the way, I love the cover.
God Bless